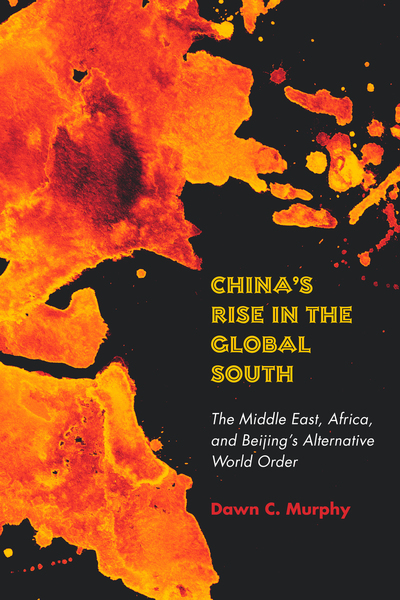 China's Rise in the Global South: The Middle East, Africa, and Beijing's Alternative World Order
Stanford University Press, 2022
As China and the U.S. increasingly compete for power in key areas of U.S. influence, great power conflict looms. Yet few studies have looked to the Middle East and Africa, regions of major political, economic, and military importance for both China and the U.S., to theorize how China competes in a changing world system.
China's Rise in the Global South examines China's behavior as a rising power in two key Global South regions, the Middle East and sub-Saharan Africa. Dawn C. Murphy, drawing on extensive fieldwork and hundreds of interviews, compares and analyzes thirty years of China's interactions with these regions across a range of functional areas: political, economic, foreign aid, and military. From the Belt and Road initiative to the founding of new cooperation forums and special envoys, China's Rise in the Global South offers an in-depth look at China's foreign policy approach to the countries it considers its partners in South-South cooperation.
Intervening in the emerging debate between liberals and realists about China's future as a great power, Murphy contends that China is constructing an alternate international order to interact with these regions, and this book provides policymakers and scholars of international relations with the tools to analyze it.
China's Rise in the Global South: The Middle East, Africa, and Beijing's Alternative World Order | Dawn C. Murphy (sup.org)
Online Appendix: Operations of Select Chinese Companies
Endorsements
"China's Rise in the Global South is a must read for anyone interested in truths and myths about China's growing global influence and U.S.–China strategic competition. Judicious and deeply researched, this book is an invaluable resource."
—Thomas J. Christensen, Columbia University
"Dawn C. Murphy offers a rich, nuanced empirical treatment of China's relations with the Middle East and sub-Saharan Africa. China's Rise in the Global South is especially valuable for those interested in China's Middle Eastern policy since it fills a major gap in the scholarly literature on China's regional relations."
—Rosemary Foot, Oxford University
"China's Rise in the Global South is a very welcome addition to the literature on China's rise in the developing world. Dawn C. Murphy offers a clear and astute assessment of China's Middle East strategy."
—Jon B. Alterman, Center for Strategic and International Studies
"China's Rise in the Global South will be welcomed by scholars and students alike for its timely insights and empirical content. Dawn C. Murphy contributes to understanding China's role in Africa and the Middle East, from economic operations to military growth and beyond."
—Chris Alden, London School of Economics